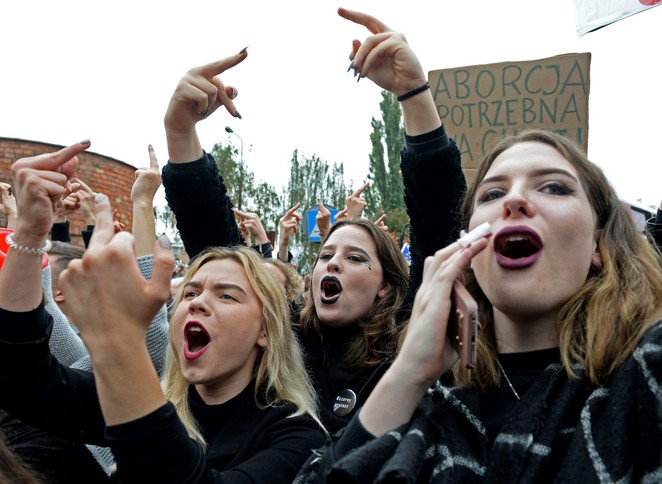 Today, October 3rd, was a nationally organized "strike", with women organizing around the hashtag #czarnyprotest, expressing their discontent with the far-right ruling party's new draconian anti-abortion bill.
Abortion was already almost illegal in Poland, except for cases of the mother or fetus' health and rape. But the new law would ban ALL abortions, even in those dire circumstances, and impose a penalty of five years in prison for having or performing an abortion. And yes, it's one of those laws where even women who have a miscarriage can be charged with infanticide.
Not only does the proposed law want to ban all abortions, but it bans all in-vitro fertilization treatments or other scientifically-aided ways of having children. The way the PiS party sees it, if you're infertile, that's god's will and you just have to deal with it.
Maybe you can tell, maybe you can't, but I am extremely pro-choice. The chipping away of women's sexual and reproductive rights in the States gnaws at my conscience, making me angry and nervous for all the women who are in precarious situations where having a baby ranges from simply unwise to absolutely untenable. I understand that Poland is a heavily Catholic country, and that abortion maybe enjoys even less support here than in the US, but this law is seen as extreme, even by many Poles.
Today, women across the country organized a strike: many didn't go to work, or wore all black to join the movement. Some businesses closed in solidarity. All of my co-workers came to work dressed in all black. In Wrocław alone, there were an estimated 20,000 women marching on the streets towards Rynek, myself included.
Seeing the support for women's rights filled my heart and kept me warm as I marched through the rainy streets with my stuffy nose, aching muscles, and cold sweats. (I'm currently sick, thanks to the germ petri dishes I call students.) Even if this is a conservative, religious country, women still deserve to have their choices be in their own hands, not in the hands of male politicians who have drummed up support for their party by whipping people into a xenophobic, anti-refugee frenzy.
You can argue that Poland is too religious, too conservative, but today Polish women (and men) showed that there are many who support bodily autonomy, who support choice! #czarnyprotest #mojeciałomojasprawa